・SERIAL ENTREPRENEUR AND ONE OF THE WORLD'S TOP 100 RETAIL INFLUENCERS
・A LEADING EXPERT ON CHINA, THE WORLD'S MOST COMPETITIVE DIGITAL BUSINESS MARKET
・"GURU ON DIGITAL MARKETING AND FAST-EVOLVING TRENDS IN CHINA." NAMED BY THINKERS50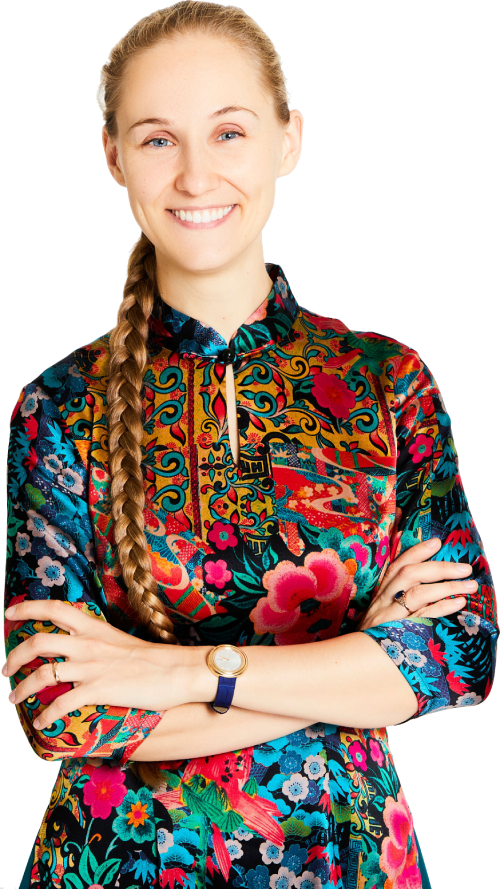 is a naturalized Chinese serial entrepreneur who deeply understands digital transformation and consumers from her decade and a half of marketing experience in China, the world's largest, most digitized market. An award- winning marketer with first hand experience as a member of Alibaba's Global Influencer Entourage, Jingdong and Pinduoduo's Global China Experts Group. Ashley has spoken at hundreds of events on five continents.
CHINA MARKETING EXPERT | SERIAL ENTREPRENEUR | PROFESSIONAL SPEAKER | VLOGGER
HIGH IMPACT, ACTION ORIENTED
CONTENT FOR GLOBAL BUSINESSES

CUSTOMER CENTRICITY:
CONSUMERS AND MARKETING

THE FUTURE OF RETAIL:
TECHNOLOGY AND TRANSFORMATION

LEARNING FROM CHINA:
THE WORLD'S MOST
COMPETITIVE MARKET

"I gained so many insights on China that are very actionable and we can apply fast."
"A must do for those who are interested to onboard themselves with the skyrocket pace of China digital and social media development and to learn in-depth perspectives."
"Outstanding keynote! Ashley was really engaging and helped condense all the China digital marketing trends into a digestible format and easily put these learnings into our business strategy."
Watch to get a taste of Ashley's special combination of energy and expertise.
TAKE YOUR BUSINESS TO THE NEXT LEVEL
book a call to discuss how Ashley can help your team
navigate opportunities from China, the most competitive market.
Ashley Dudarenok is a naturalized Chinese serial entrepreneur, multiple award winning digital marketing professional and a book author. The world's largest brands hire Ashley to understand the modern Chinese consumer, accelerate their digital transformation and build truly customer centric companies so that they stay competitive in the market.
Her expertise has been endorsed by China's tech giants. In 2017, Ashley became a member of Alibaba's Global Influencer Entourage, and in 2018, she joined Jingdong and Pinduoduo's Global China Experts Group. She is regularly brought in to consult companies' top management and boards to provide a clear vision on the future of retail, digital transformation and customer centricity based on her expert knowledge of the highly competitive fast moving Chinese market.
Ashley's expertise in the field of digital transformation and customer centricity, the future of retail, Chinese consumers and digital marketing has been recognised by numerous awards.
ASHLEY HAS BEEN HAILED AS
LinkedIn Top Voice in Marketing
Over 85,000 followers on the platform
World's Top 30 Internet Marketing Experts 2022
By Global Gurus
Guru on digital marketing and fast-evolving trends in China
By Thinkers50
Young Business Leader of the Year 2021
By Shanghai IPWS
Asia-Pacific Top 25 Innovator
By Holmes Report
Outstanding Entrepreneur 2022
By Hong Kong WPEA
One of Top 20 Visionaries of the Media and Technology
By Adello Magazine
One of World's Top 100 Retail Influencers 2023
By RETHINK Retail

"A great insight into digital in China. The whole session was very insightful! We'll start exploring the mentioned apps and applications as soon as we are back. Ashley is very knowledgeable and action driven!"
"The masterclass provided brand new knowledge on what's happening in China right now, as well as useful tips on what's worth doing and what's not."
"Ashley is a great resource on China's quickly changing social media landscape. If you have an opportunity to learn from Ashley, you'll be impressed with her energy and depth of insight."
With the world increasingly turning to e-commerce and digital channels, businesses can't afford to get their digital customer journey wrong. Ashley can give you unique insights from China, the world's most competitive market to help you transform your business and customer relationships both online and offline.

Ashley is constantly watching and analyzing China trends and know how to react to changes at China speed.

Ashley is immersed in the market and has first hand insights from Alibaba, Tencent, Jingdong, Pinduoduo, Kuaishou, ByteDance and other China tech giants.

All Ashley's speaking engagements are tai lor-made for the audience and insights developed for business needs.

Apart of the knowledge and expertise Ashley is also bringing her high energy and positive attitude to any events to inspire participants and motivate to achieve their goals.

"Great and relevant content! Professional and knowledgeable speaker with contagious energy. Excellent examples shared during the presentation."
"Ashley is an up-to-date, enthusiastic and passionate expert in business marketing and social media in China. She is very focused on giving effective advice on the best strategies in the market. I strongly recommend her."
"Ashley's masterclass is a "Must Attend" for anyone involved directly or indirectly in strategic decisions on business development and marketing planning at any level."
ASHLEY HAS BEEN FEATURED IN
If you need more resources for your event, Ashley is the author of 3 Amazon bestsellers on topics such as Chinese consumers, Working with Bloggers and KOLs as well as the New Retail.
Ashley has also published 6 mini-books as a part of her Digital China series to help you understand and navigate modern Chinese consumers, how to work with Chinese tourists, ways to do B2B marketing in China along with the ways to sell through cross border ecommerce channels. Ashley's two latest mini- books are focused on the increasing importance of
micro-influencers marketing and tactics to avoid PR crises in China.
Ashley's new mini-book on how companies in China and the rest of the world are
exploring the metaverse will be available in February 2023.

Ashley also regularly publishes China Mega Reports covering the latest
insights about China's digital landscape. All these materials can be shared with the event participants during,
before or after events. Please let us know the quantity and we will arrange it.
The future is now and
Ashley Dudarenok can help you
to arrange a call with
Ashley's team to hire her to speak.
ASHLEY'S ALSO SHARING PLENTY OF VALUABLE
INFORMATION AND INSIGHTS ACROSS HER
SOCIAL MEDIA PLATFORMS AND BLOGS.